Vehicles (Cars, Utes & Vans)
Vehicle Wraps and Stickers in Hervey Bay
Let us handle your car signage needs! Get a quote today at
07 4124 2989
!
Your business needs exposure to get more customers, and you can't pass out flyers every day to get noticed. A sign on your car will advertise your business wherever you go without even trying.
At Write On Signs, we offer vehicle wraps and stickers in Hervey Bay at an affordable price to save you money on advertising.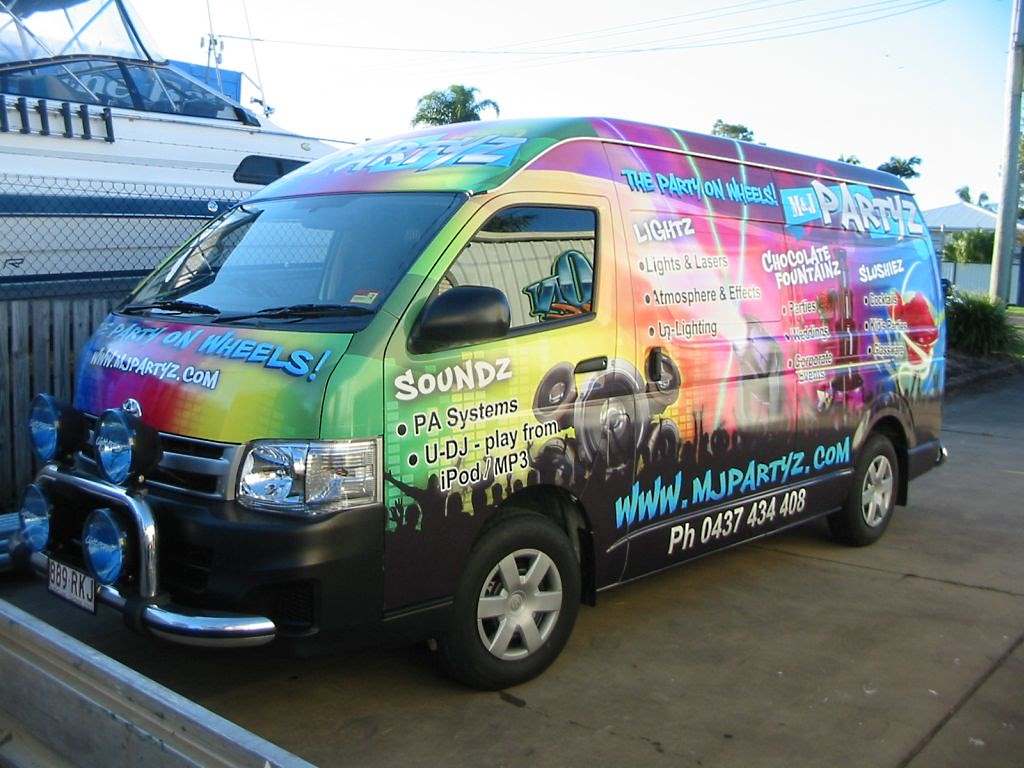 One Way Rear Window Graphics
Other Vehicle Signs and Stickers
Why Advertise on My Car?
With the world developing around us fast, you need to be just as quick. With more competitive businesses on the rise, your company needs to stand out. Our perfect signs for your vehicle will
Provide free exposure wherever you drive
Lower advertising costs
Have more impact than a billboard
Become a portable sign
Our vehicle wraps and stickers in Hervey Bay get you more customers so your business will not fall behind.
Wraps for All Vehicles
Whether you want a full car wrap or only your logo printed on the doors, Write On Signs has your sign solutions. We offer stunning designs that fit
Cars
Trucks
Vans
Motorbikes
Buses
Boats
Our wraps do not damage your vehicle and come off easy when no longer desired. Advertise your brand with a wrap or vehicle stripe today!
One Way Rear Window Graphics
If a full wrap isn't what you're looking for, we can install a sign in your rearview window. Our one-way panel does not affect your visibility or driving and will get people's attention.
Beyond Bumper Stickers
Kids love customizing their favourite things with stickers, and adults are no different. Your current customers can put your branded sticker in more places than their car bumper to attract more clients. We print in bulk, ensuring your brand is shown all over town.
Custom Signs and Graphics
Whether you have design ideas, just a logo, a colour scheme, or less, our expert designers work with you to give you what you want. Work with our team to create an automobile sign customized to fit your business.
Designing
Designing is the most critical part of the process. Our professionals use graphic tools to take a personal and detailed approach to your needs to get your design done right.
Fabrication
Once we have the completed designs, we will send them to you for approval. If any changes need to happen, we correct the plan here. Once given consent, we print the work on vinyl and laminate the designs.
Application
This final stage means certified professionals apply the fabricated prints where you want them. We carefully apply the decals to your car indoors to guarantee no damage, warping, or bubbling. If you purchased a full wrap, we apply the prints segment by segment, usually taking two or three days.
Discover What We Can Do for Your Vehicle
When you partner with Write On Signs, our vehicle wraps and stickers in Hervey Bay guarantee that customers notice your business everywhere you drive. Call us today for a consultation at 07 4124 2989!
Discover Real Service at an Affordable Price. Call Write On Signs today