Make your boat stand out on the water with a custom boat wrap. Call
07 4124 2989
today for a consultation!
Boat wraps are very different from vehicle wraps. At JR Signs in Hervey Bay, we know excellent vinyl materials are necessary to have boat wraps and stickers stand up to Australia's sunlight, freshwater, and saltwater. We guarantee you a customised boat wrap to love and last, whether it advertises your business or showcases your boat name.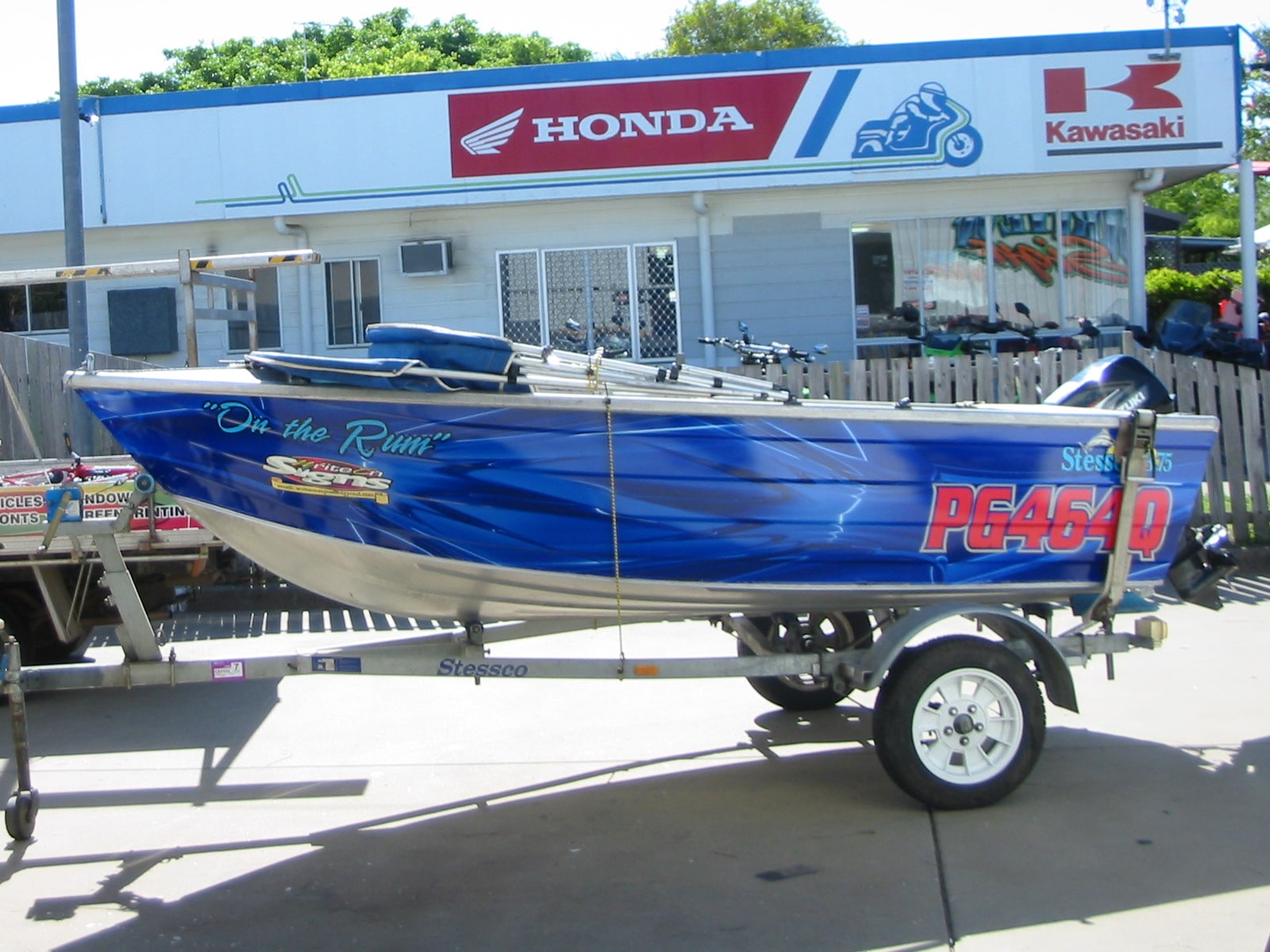 Boat Wraps
While some boat owners may choose to paint their boats, boat wraps are waterproof and more affordable than paint. Our wraps are easily removable when you decide you no longer need them or wish to sell your boat. We wrap your boat at your desired destination, so you don't have to bring it back and forth.
We have ski boat wraps available as well!
Advantages of a Boat Wrap
Apart from your boat looking its best, our boat wraps and stickers benefit your boat by protecting it from damage and making cleanup a breeze.
Protection
Boats face harsh marine life and weather daily. A wrap protects the hull from:
Scratches
Bumps and nicks
Water damage
Protect your boat's exterior with a customised boat wrap today!
Theft Reduction
A vibrant wrap will make your boat look unique, drawing public attention. Thieves are less likely to steal branded boats that stand out from the crowd, so a boat wrap acts as a theft deterrent.
Cleans Easily
Our high-gloss boat wraps make it possible for salt, pigmentation, and residue to slide off easily with light soap and hose water. When it comes time to clean your boat, our wraps save you time.
Increase Your Resale Value
Boat wraps protect your boat, so the resale value increases when it comes time for you to sell or upgrade. Sometimes the difference in price value is over $1,000. Our wraps take years off your boat's appearance, catching the eyes of potential buyers.
Boat Stickers
If a wrap is not your style and you want a small sticker on the side of your boat or jet ski, we will make that happen. If you have a design or wish to work with one of our experienced designers to create something unique, we will print you a sticker you will love.
Boat Names and Numbers
A boat is not a boat unless it has a name. With self-adhesive, high-quality materials, and customisable options, we will provide you with a range of high-quality fonts and options for boat name stickers. We wrap letters and numbers on your boat for you that stick to most flat and curved surfaces, including
Painted wood
Plastic
Metal
Aluminium
Custom Graphics
At JR Signs, we provide a vast selection of graphics for you to choose from, making it easy to make your design. Whether you want your wrap to feature your company logo or a totally custom design, we will meet your needs.
Discover Your Boat's New Look With Us
Buying with JR Signs in Hervey Bay guarantees your boat wraps and stickers meet your high expectations. Your boat will catch eyes from miles away. Call us today at 07 4124 2989 for a quote!
Discover Real Service at an Affordable Price. Call JR Signs today